Kid's Tours
Jobs for Students
---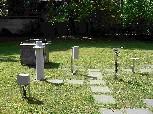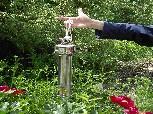 Kid's Tours at the Institute for Meteorology
As you all know, there are guided tours for interested school classes in our institute from time to time. In the past, these tours were mostly conducted by students and will continue to be so in the future. For this we ask for your help. The aim is to show and explain the equipment to the students on the measuring meadow and to tell them about the meteorologist's work and the Berlin weather map on the 6th floor of the weather tower. As you may know, there is a presentation room on the 2nd floor of the tower, which should of course be used for guided tours (especially in bad weather). At the moment Sophia Walther, Katharina Roth, Mirjam Hirt, Philipp Zschenderlein, Stefan Proft and Sebastian Kugel from the student side are responsible for guided tours. We would be happy if some of you would contact us who would like to do guided tours themselves in the future. The only prerequisite for this is the fun of it, the joy of showing and explaining something to others. Some knowledge about the function of the measuring instruments and the work up in the tower are surely very fast refreshed or learned. As a small expense allowance we ask for an amount of about two Euro per person during the tour.
If you are interested, then just get in contact with us:
schulfuehrungen@met.fu-berlin.de or just ask us.
The kids' tour team:
Sophia Walther, Katharina Roth, Mirjam Hirt, Philipp Zschenderlein, Stefan Proft and Sebastian Kugel