datos
Raúl A. Becchio (Tato), PhD
---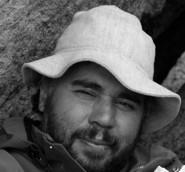 Profesor of Igneous and Metamorphic Petrology and General Geology, Universidad Nacional de Salta, Buenos Aires 177, (4400). Salta . Argentina. Research members of CONICET. (Institut)
My interest is about Central Andean basement petrology, Upper Precambrian to Lower Ordovician and Cenozoic volcanism.
CENTRAL ANDES INTERNATIONAL VOLCANOLOGICAL FIELD COURSE
University Teaching Subjects
Igneous and Metamorphic Petrology.
General Geology
Biodata
Born 1963 in Bell Ville, Córdoba Province. Argentina.
Academic Profile
2000: Ph.D. (Salta University, Argentina)
1991: M.Sc. (Córdoba University, Argentina)

Research Grants and Publication Record
 6 National Research Grants since 1997.
Published 12 articles in peer-reviewed International Scientific Journals
Adress
Laboratorio de Geoquímica
Facultad de Ciencias Naturales
Universidad Nacional de Salta
Buenos Aires 177
(4400). Salta (Argentina)
E-mail: tato (at) unsa.edu.ar