Chris Shinsanya
Chris A. Shisanya, PhD
---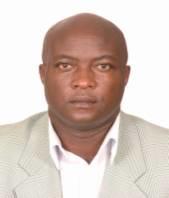 Associate Professor of Geography, Kenyatta University, P.O Box 43844-00100, Nairobi, Kenya
Agroclimatologist, with research bias in Climate change,
crop-water relationships, crop-growth modeling,
soil fertility improvement, watershed management urban water and sanitation.

University Teaching Subjects
Climatology, Hydrology, Remote sensing, Statistics & Research Methods
Biodata
Born 1962 in Kakamega town, Kenya.
Married to Constance with 3 children (Wilson (16), Warren (12) & Wendy (8) ).
Academic Profile
1996: Ph.D (Trier University, Germany)
1988: MSc. (Kenyatta University, Kenya)
1985: BE.D (Science)(Honours)(University of Nairobi, Kenya)

Research Grants and Publication Record
Has to date won a record of over 20 International Research Grants since 1997.
Published over 30 articles in peer-reviewed International Scientific Journals
Member of the Editorial Board to several International Scientific Journals