When water interacts with rocks and minerals, it can leach inorganic compounds into solution. In the case of the Earth, for example, this results in the briny, salty, ocean. However, unlike on the Earth, where rain water running off the land is primarily responsible for the salinity of the sea, on ocean worlds such as Enceladus and Europa this is not the case. Instead, interaction between a subsurface ocean and the rocky core it surrounds, produces a salt-rich, briny, ocean within the bodies.
Until recently, such oceans were purely theoretical, the subjects of convincing hypotheses to explain Europa's interaction with Jupiter's magnetosphere, or the photometric colours of Saturn's E ring. However, the Cassini spacecraft's discovery of a large plume of vapour and ice grains emitting from fractures in Enceladus' south polar terrain, and, importantly, that a fraction of the ice grains were salt-rich, has confirmed the presence of an extant subsurface ocean within the moon. 5-10 % of the emitted ice grains, including those which are salt-rich, are ejected fast enough from Enceladus, they can enter into orbit around Saturn itself, forming the planet's large, diffuse, E ring.
The salt-rich grains produce impact ionisation mass spectra classified as Type 3 (Postberg et al. 2009, Postberg et al. 2011) – these have spectral features indicative of the presence of sodium and potassium chloride salts, as well as (hydrogen) carbonate salts (see Figure 1). By recreating the spectra in the laboratory, using different concentrations and mixtures of salts (as shown in Figure 2 for a solution typical of a theoretical ammonia-containing grain), the salinity of the grains, and perhaps of the Enceladean ocean itself, is estimated to be 0.05-0.2 mol/kg of water for NaCl, compared with that of NaCl in Earth's oceans of ~0.6 mol/kg of water. The formation of particular peaks in the spectra (namely sodium hydroxide, NaOH, and clusters containing it), were found to indicate that the pH (acidity or alkalinity) of the ocean was likely to be alkaline, at around 9.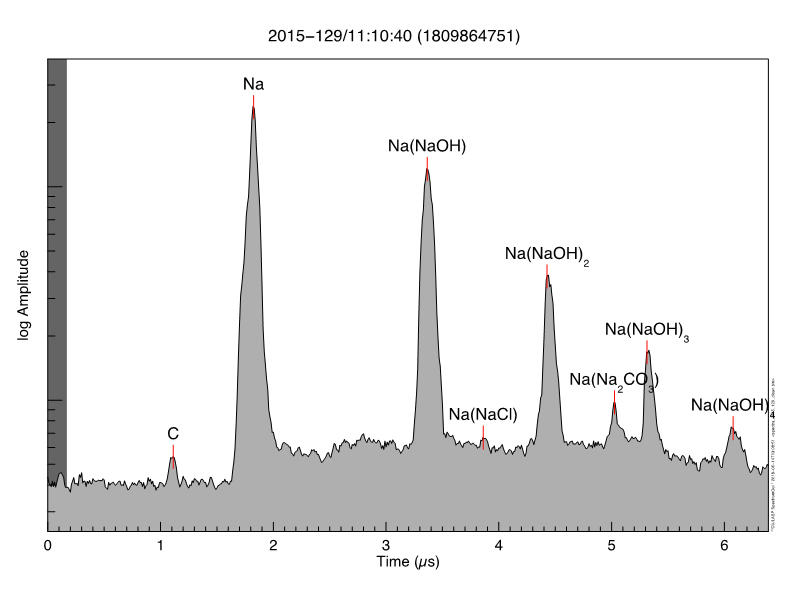 Figure 1: Cassini Cosmic Dust Analyzer mass spectrum of a Type 3 "salt-rich" ice grain, detected in Saturn's E ring. In this case, the particle contained a small amount of sodium chloride and sodium carbonate. Peaks are labelled with their respective source ion composition. The small C peak arises from CDA's impact target (Image Credit: Habitat-OASIS Team).