Prof. Dr. Sahar Sodoudi, Matthias Straka (M.Sc.), Felix Müller
Project description
ASUS - "Adapting sustainable urban planning to local climate change in Egyptian new towns (case study New Aswan)" is a research project which is financed by the Federal Ministry of Education and Research of Germany (BMBF). The objective is to analyze sustainable urban planning in arid climates with the example of New Aswan, Egypt. For this Egyptian new town there are several construction plans for buildings, which are to be evaluated by the WG Urban Climate and Health with regards to their impact on micro climate and their energy consumption with the background of the local climate change.
Different models (ENVI-met, MUKLIMO_3, Design Builder, COSMO-CLM) will be used to analyze meteorological variables and energy efficiency at different scales. Single buildings and the whole new town will be simulated and statistically evaluated. The main focus will be on the change of the human thermal comfort due to climate change and the respective buildings.
Project aims
1. Evaluation of the local climate change in Aswan, Egypt

With the help of the regional climate model COSMO-CLM the climate change will be analyzed for Aswan, Egypt. Two time slices (1981-2010, 2021-2050) will be simulated. The first period will be used as a reference while the second period will be simulated under different RCP-scenarios (4.5, 8.5) to analyze the future climate change for Aswan. Several climate indices (hot days, warm nights, warm & cold spells) will be taken into account for that. The first results with measured meteorological data from the weather station in Aswan show a positive trend for various climate indices (Fig. 1).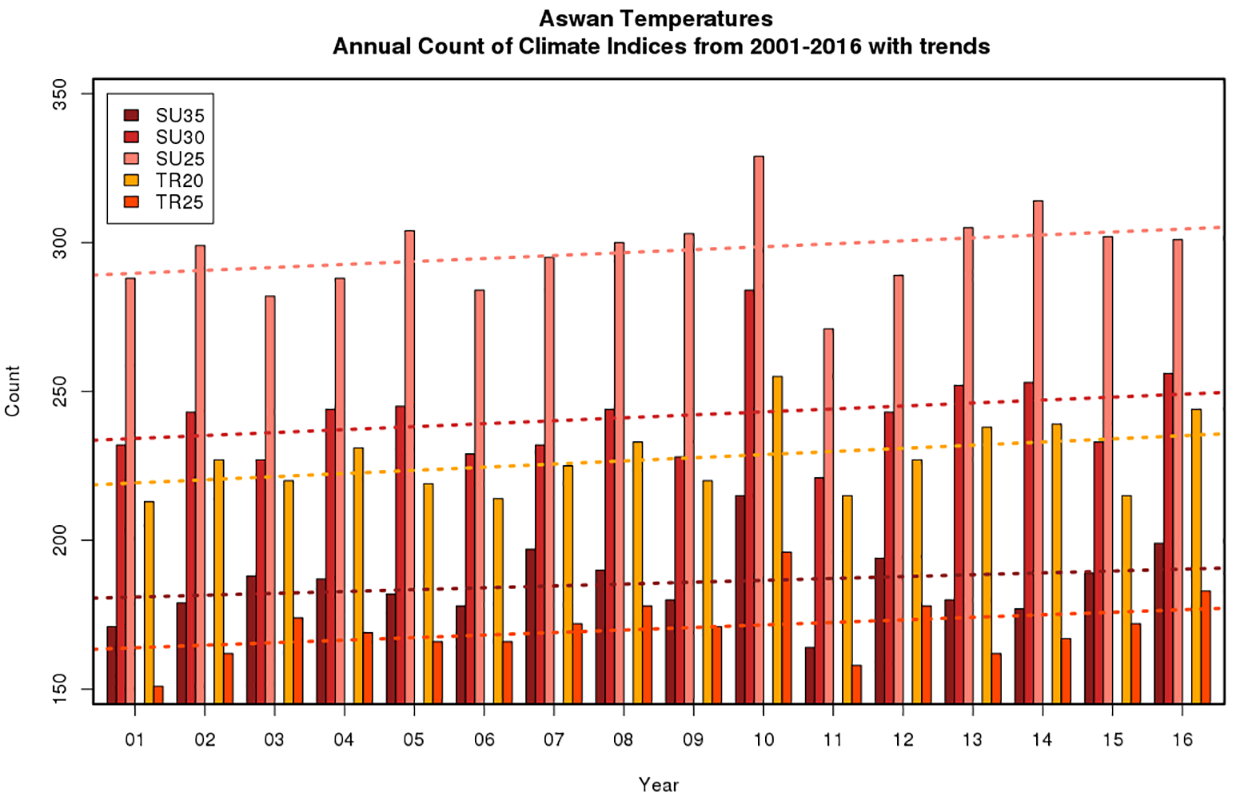 Fig 1. - Increasing count of desert days (SU35), hot days (SU30), summer days (SU25), tropical nights (TR20) and hot nights (TR25) in the period from 2001-2016, calculated with data from the meteorological station in Aswan (WMO-station 62414).
2. Analysis of different construction plans for New Aswan
In cooperation with our partner, Ass. Prof. Dr. Hatem Mahmoud Fathy from the Aswan University, the construction plans for different types of houses will be analyzed. The main focus will be on the impact on micro climate and on energy efficiency.
3. Development of scenarios to improve the micro climate in New Aswan
In order to improve the micro climate in New Aswan, different adaptation scenarios to climate change will be developed and simulated. The result will be a table with recommendations which highlights the measure and its effects.
Funding
The project is funded by the Federal Ministry of Education and Research of Germany (BMBF) and is supervised by the German Aerospace Center (DLR). Our project partner is the Aswan University.