Scanning Electron Microscopy Lab
"Automated Mineralogy Lab"
Building T – Room T 030
Tel: +49 30 838 70823
Contact: Dr. J. C. Vrijmoed
Email: j.c.vrijmoed@fu-berlin.de
The Zeiss Sigma 300 VP Field-Emission Scanning Electron Microscope is equipped with:
Zeiss Gemini column
2 Bruker Quantax Xflash 60mm2 SDD EDS Detectors for quantitative Element Analysis

1 Variable Pressure Secondary Electron detector (VPSE)

1 High Definition Back Scatter Detector (HDBSE)

1 Inlens Detector

2 Zeiss ATLAS Correlative microscopy system (1 online/1 offline Workstation)

2 Mineralogic Mining automated Mineralogy systems (1 online/1 offline Workstation)

2 Reservoir Mining automated Pore analysis systems (1 online/1 offline Workstation)
Applications
High-resolution automated surface imaging (Zeiss ATLAS)

Surface morphology imaging of uncoated, unpolished samples (Low Vac, Environmental SEM)

Automated quantitative Mineralogy- and Porosity mapping of thinsections

Fast automated search of specific Mineral Phases (i.e. Sulfides, Zircons)

Grain size/shape analysis and Mineral paragenesis analysis

Cathodoluminescence analysis (with VPSE Detector)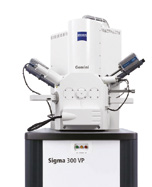 The ZEISS Axio Imager M2m is optimized for automated transmitted/reflected light thinsection mapping. It is equipped with:
4 Objectives 2.5x, 5x, 10x, and 20x (optimized for reflected light)

Polarized transmitted light / motorized reflectors for polarized reflected light

Motorized stage

High Definition digital camera

Zen Blue Software

High performance PC for the analysis of GB-sized image data
Applications
Fast full thinsection mapping for the correlation with SEM images and EDS data

Fast thin section search for opaque phases like Sulfides, Oxides, etc.