Application of hyperspectral imaging in archaeological contexts
Institution:
Institut für Geographische Wissenschaften
Fachrichtung Physische Geographie
EXC264 Topoi
Ansprechpartner/in:
Vincent Haburaj
The research project examines the applicability of quantitative remote sensing techniques within archaeological contexts. Through the application of transparent semi-automated algorithms it aims for a more objective perspective on archaeological excavations.
Traditional airborne hyperspectral imaging allows for studies at a regional and supra-regional scale. Supporting a recent progress towards the integration of geographic information systems into actual archaeological fieldwork, this project aims at the inclusion of multi- and hyperspectral imaging techniques at a local level. Special attention is given to the development of an optimised and standardised workflow, based on open source software and thereby allowing for transparency and reproducibility.
This doctoral thesis is being written within the program Landscape Archaeology and Architecture (LAA) of the Berlin Graduate School of Ancient Studies (BerGSAS) and within research group (A-1) Marginal Habits of Topoi.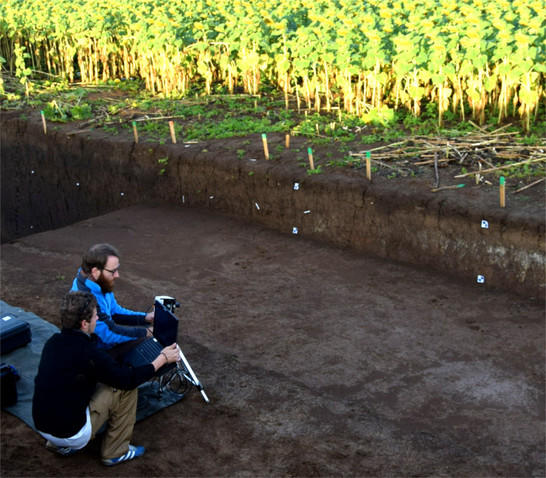 Fieldwork impression (Bronze Age enclosure, Cornesti Iarcuri – Romania).

Multispectral camera during fieldwork (Cornesti Iarcuri – Romania).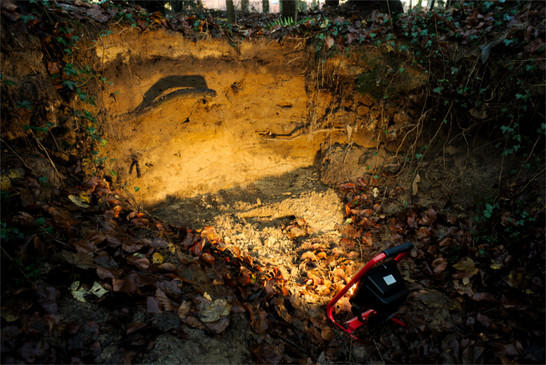 Educational soil profile in the vicinity of Kloster Chorin (Brandenburg).