Ozon Forschungsprojekt
Improving Short-term Ozone Forecasts as Part of the Smog Early Warning System
R&D project funded by the German Federal Environment Agency (Umweltbundesamt), research code: 295 43 817. Duration: 1995–2000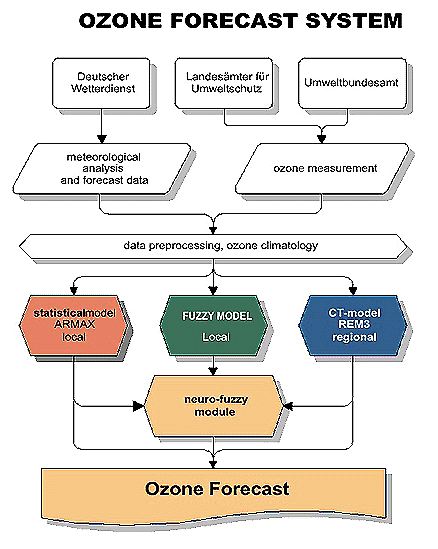 Summary
Ozone, the main component in photochemical smog, plays a major role both within Germany and internationally.
Both ozone itself and its precursor substances are carried across national borders. Based on findings showing that elevated concentrations of these substances pose health risks to some segments of the population and adversely affect vegetation as well, various limit values have been established within the European framework and in Germany. When these limits are exceeded, the populace must be informed or warned.
This is the reason behind the need for information on ozone pollution and its development throughout Germany.
With this in mind, the German Federal Environment Agency began using a process for nationwide forecasts of maximum ozone concentration in May, 1994.
The results of these ozone forecasts are used to inform the public and are also provided to the states for their information.
To enable comprehensive modernization of the forecasting methods used by the Federal Environment Agency, this project made use of multiple methods, including atmospheric dispersion modeling using a chemical transportation model, statistical ARMAX, fuzzy, and neuro-fuzzy models. The project also had the objective of combining these methods sensibly in order to enable researchers to secure and assess the forecasts.
In addition, the project aimed to enable a type of problem-related interpretation that combined a wide range of different model aspects.
The goal of the overall project was to provide a forecasting system that ensures provision of one-day to three-day forecasts, where possible with an indication of the margin of error associated with the forecast.
Along with the development of methods, the project planned to include the forecasting system, including interim results, in a real-time environment right from the start.
The following current data are available:
­ 3D forecasting fields from the German Weather Service global model,
­ Local forecasts from the German Weather Service local model,
­ Meteorological observations via the German Weather Service,
­ Measurements of chemicals in the air by the state environmental agencies and the Federal Environment Agency
From April through September, the real-time information system set up at Freie Universität presents ozone forecasts, together with meteorological data and fields from the forecasting model of the German Weather Service, for the first three days of the forecast.