The research of the Sedimentary Systems Group focuses on how sediments and sedimentary rocks record Earth-surface processes across a broad range of temporal and spatial scales. The ultimate goal is to discover how marine clastic sedimentary successions relate to past tectonic activity, climatic perturbations, sea-level changes, oceanic conditions, and intrinsic controls of the depositional system. We are aiming to analyze entire natural sediment routing systems, including their terrestrial and submarine components, over geomorphologically significant time scales.
Projects
Chile
We analyzed Earth surface processes across a broad range of climate zones and geomorphic characteristics over the past 26,000 years. The goal of this project is to decipher the controls on offshore turbidite deposition and to evaluate the use of turbidite depositional archives as proxies for climate change and past earthquake activity.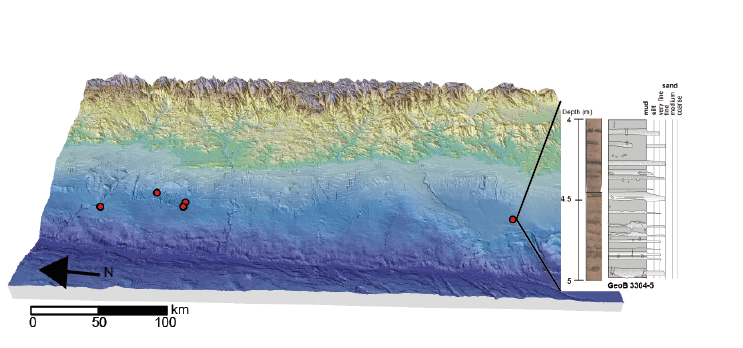 Block diagram of the Chile margin from La Serena to Valparaíso showing the onshore and offshore topograhy. Red dots denote sediment core sites.
Molasse Basin (Germany/ Austria)
The goal of this project is to reconstruct the Oligocene and Miocene uplift and erosion history of the Eastern Alps by investigating the sedimentary basin fill of the German and Upper Austrian Molasse Basin. We will decipher the propagation time scale of major uplift and erosion signals into the marine and freshwater strata of the Molasse Basin. This project is part of the PhD project of Julian Hülscher and is coadvised by Edward Sobel.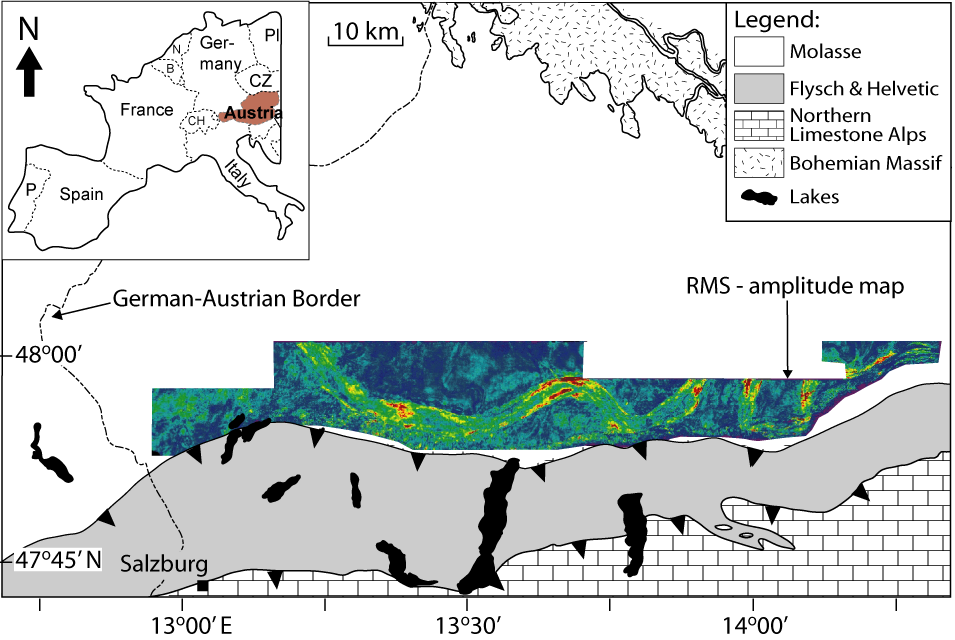 Outline of the Austrian Molasse study site including three-dimensional seismic-reflection data and sediment core provided by the Rohölaufsuchungs AG in Vienna.
Outcrop of Miocene Freshwater Molasse in the German Molasse Basin.
West Sumatra
Along the West coast of Sumatra,we are tracing Holocene variations of erosion and sediment deposition related to precipitation changes from the onshore erosional zone through the fluvial transfer zone and into the deep-marine sedimentary sink.
Outcrop of volcanic tuff deposits which are currently being eroded and incorporated into river sediment.
Describing Auger sediment cores of river floodplain deposits that are cultivated as rice paddies.
Sediment plume in the Indian Ocean offshore the Padang River after heavy rainfall.