This research uses combined cosmogenic nuclide analysis (10Be, 26Al, in situ 14C) to promote two key questions in Quantitative Geomorphology: 1) the detection and quantification of past changes in surface erosion rates in relation to variable climate conditions and/or human land use, and 2) the quantification of sediment residence times in river basins.
1) Quantifying the amplitude and frequency of past changes in surface erosion rates is critical for our understanding of the response of the Earth's surface to environmental changes. Coupling the short-lived in situ 14C nuclide to the long-lived 10Be allows us to determine the timing and magnitude of erosion rate change, or the timing and thickness of mass removed during an instanteous mass erosion event, e.g. in the case of soil stripping. This approach has the notable benefit that landscape transience can be detected directly on the hillslopes or ridgetops. First results from coupled in situ 14C-10Be-26Al analyses in hilltop samples and river sediments from the semi-arid eastern Altiplano (Bolivia) point at an abrupt acceleration in soil-loss during the middle-late Holocene – contemporaneous to regional climate amelioration and the development of first agricultural societies in the area.
2) How fast do rivers transmit signals of environmental change, e.g. climate cycles, from source to sink? Sediment transfer is essentially controlled by sediment storage that interrupts sediment transport processes and effectively decouples source from sink. Although sediment storage sites are recognized from field observations, methods to directly measure the duration of storage and overall sediment transit times are limited. We use combined in situ 14C-10Be analyses in river sand samples to determine sediment storage times in a small river basin on the eastern Altiplano. Preliminary results indicate sediment travel times on the order of several 100 to few 1000 years, which is in excellent agreement with the age of 1-3 kyr for the floodplain sediments (Hippe et al., 2018).

Study area on the eastern Altiplano: main river valley with the present-day floodplain in front of terraces and erosional palaeosurfaces formed during the Holocene and late Pleistocene (Hippe et al., 2018).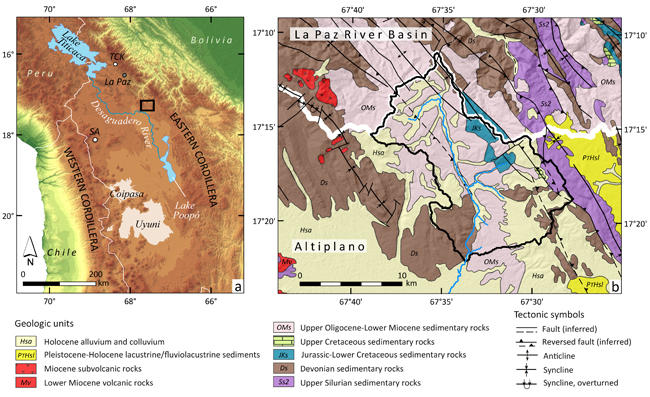 Location of the study area (black square shows extent of b) within the central Andean Altiplano and a generalised geologic map of the field area.