Clean Room
Building B, Rooms B207-211
The Geochemistry group is equipped with clean laboratory facilities, used for low-blank sample preparation and element separation for isotope abundance measurements and concentration determinations of different elements in rock samples and minerals. Pre-filtered air using various pre-filters and HEPA (H13) filters are employed as well as a slight overpressure, compared to the outside air, to produce clean-lab conditions. Our Clean laboratory (a total of ca. 105 m2), consists of two separate laboratories, both equipped with laminar flow workstations as well as a balance room, enter room and a cleaning laboratory. Element separation and sample digestion is performed in 8 laminar flow cabinets and in workstations equipped with H13-H14 filters.
Water is purified to an extremely low conductivity of 18.2 mOhm/cm3 using a MilliQ system.
Acids are generally purified in one to several distillation steps using glass and Teflon distils.
The spectrum of elements that are currently separated and analyzed include Rb-Sr, Sm-Nd, U-Pb for dating and isotopic composition, Os, Ba and Cr for isotope abundance measurements. In addition, ultra trace element analyses of highly siderophile (PGE, Re, Au) and chalcophile elements (S, Se, Te, Cd, In, Cu, Ag, Mo, Tl) are performed for concentration determination employing isotope dilution. Moreover, 44 conventional trace element concentrations can be routinely determined.

Rock and mineral digestions are partly carried out in the clean room (acid digestion in a closed teflon beaker up to 180 ° C) or in the oven and digestion laboratory (B 233) using Parr Bombs or the high pressure asher.
Cleanlab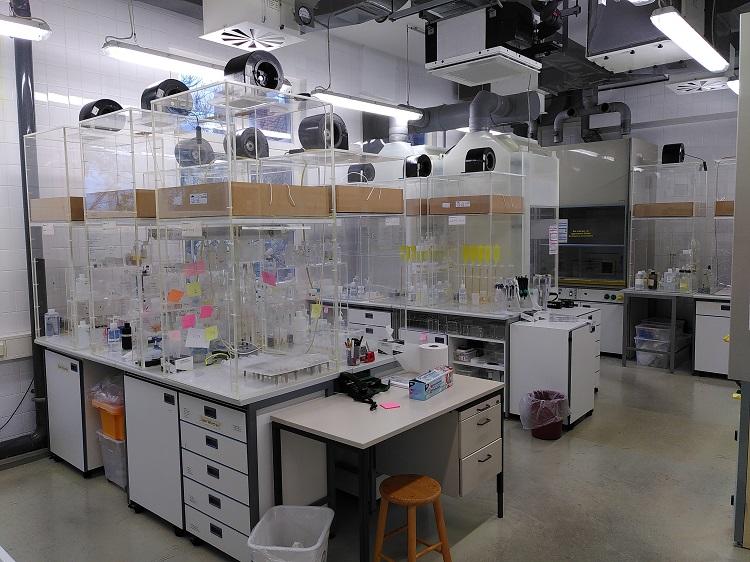 Laminarflowbox