New Project within the SPP Earthshape
Our joint project with the GFZ Potsdam "SECCO - Chile: The coupled vegetation, weathering, erosion and sediment-export response to climate change unraveled from novel proxies in Chilean marine sediment" has been recently suggested for DFG funding within the SPP Earthshape. PhD positions will be announced shortly:
---
Guestprofessor Kristina Hippe
Starting September 05, 2018, Kristina Hippe is substituting Prof. Anne Bernhardt for 1 year at the Institute of Geological Science, Sedimentary Systems group.
---
Key note talk - Anne Bernhardt - 1st Early Career Sedimentologist Meeting (ECSM)
Anne Bernhardt will give a key note talk "Sediment dispersal dynamics and environmental signal propagation into deep marine sediments along the Chile margin." on Friday June 8th at the 1st Early Career Sedimentologist Meeting (ECSM) organized by the Fachsektion Sedimentologie/SEPM-CES to be held on the 8th and 9th of June 2018 at the Institute of Geology at the Leibniz University Hannover.
---
---
---
---
Anne Bernhardt has won this years' Teaching Award awarded by the students of Geological Sciences at the FU Berlin.
Thanks to everybody who voted!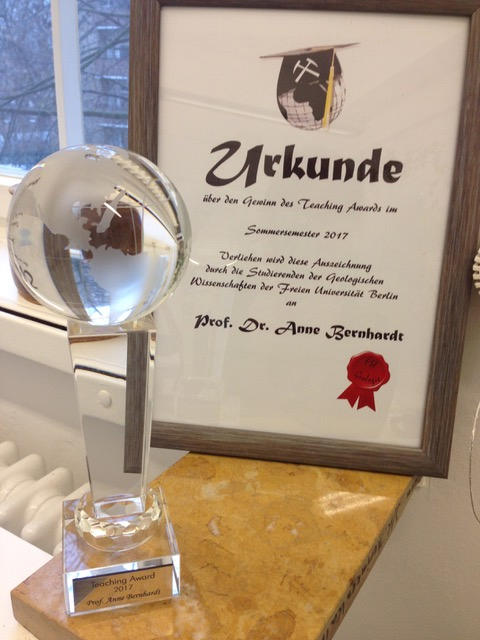 ---

---
Our new paper on the detailed sedimentary architecture and pulsing of catastrophic alluvial valley filling in the wake of medieval earthquakes in the Pokhara Valley (Nepal) is out. Check out the free link which will be available until December 26, 2017: https://authors.elsevier.com/c/1V-~h-4PRmKID or just email anne.bernhardt@fu-berlin.de for a copy.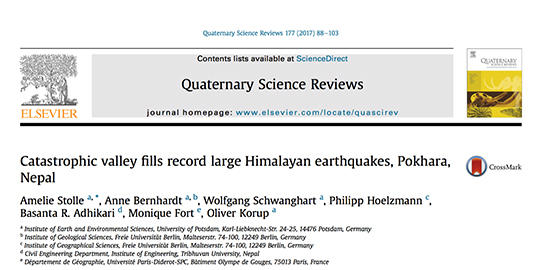 ---
The Group Seminar of the Sedimentary Systems Group will focus on Submarine Geomorphology during the upcoming winter semester. Please join our discussion!
AG-Seminar Sedimentäre Systeme "Submarine Geomorphology"

---
The timetable for our session (chaired by 
Anne Bernhardt
 and Hella Wittmann)  "From source to sink: Environmental signal propagation into the stratigraphic record"  at the GeoBremen 2017 on Wednesday September 27th 10:45 - 15:30 is now online: 
https://www.marum.de/en/Research/GeoBremen-2017/Conference-timetable.html
---
Julian Hülscher is presenting his a poster about his PhD work on Wednesday September 27th at the GeoBremen 2017: 'Propagation of Alpine uplift signals into the deep marine Austrian Molasse Basin: First results of the interpretation of 3D seismic-reflection data and heavy mineral analysis'. 
---
Our new paper made it into the EOS Research Spotlight.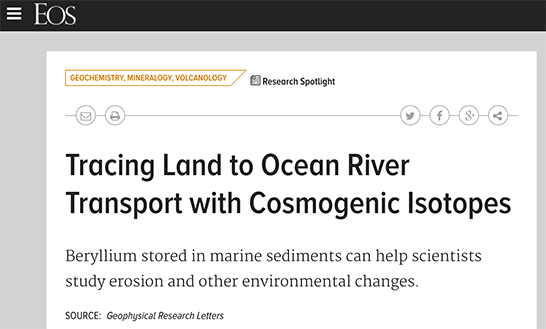 Check it out: 
https://eos.org/research-spotlights/tracing-land-to-ocean-river-transport-with-cosmogenic-isotopes
---
Can we use meteoric 10Be/9Be in marine sediment for paleo-denudation flux reconstructions?
Our new GRL paper is now available online here: 
http://onlinelibrary.wiley.com/doi/10.1002/2017GL074259/full
---
The Sedimentary Systems research group is looking for an MSc. Candidate for a industry-funded research project entitled "Quantification of a catastrophic submarine mass transport event in the Early Micoene of the Upper Austrian Molasse"
PDF download for more information

---
---
Our paper on climate signal propagation into marine turbidite system is now available online under this (free) link

.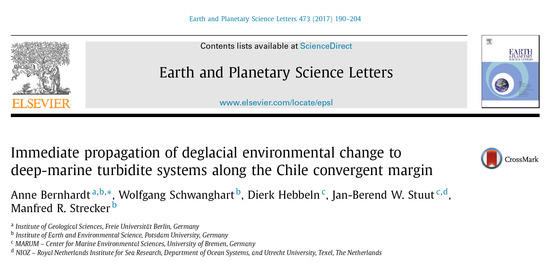 ---
Anne Bernhardt and Hella Wittmann are convening a session at the GeoBremen 2017:
"From source to sink: Environmental signal propagation into the stratigraphic record"
Please see the GeoBremen website for details on the session proposal and abstract submission.
---
Propagation of Environmental Signals within Source-to-Sink Stratigraphy, June 5th – 9th, 2017, Location: Tremp & Ainsa, Spanish Pyrenees
---
Our new paper on quantifying the impact of structural uncertainty on stratigraphic outcrop interpretation based on submarine channel strata in the Magallanes Basin (Chile) is out:  
Lisa Stright
Zane Jobe
Julie C. Fosdick
Anne Bernhardt
Modeling uncertainty in the three-dimensional structural deformation and stratigraphic evolution from outcrop data: Implications for submarine channel knickpoint recognition
Check it out on the website of Marine and Petroleum Geology or email Anne Bernhardt for a copy.
---
Experimental work on living Triops longicaudatus
Josephina Hartung:
During my internship at the Dinosaur National Monument in Utah, USA I started working with park paleontologist Dr. Daniel Chure on potential notostracan trace fossils from the Triassic Chinle Formation. Other than writing, I do experimental work on living Triops longicaudatus to reconstruct its traces and environment. Currently I'm about to finish my undergraduate Thesis: "PALEONTOLOGICAL ANALYSIS OF UNIQUE, ABUNDANT AND SUBPARALLEL NOTOSTRACAN TRACE FOSSILS FROM THE UPPER TRIASSIC CHINLE FORMATION IN DINOSAUR NATIONAL MONUMENT, NORTHEASTERN UTAH, USA"
---