Prof. Dr. Anne Bernhardt
Fachbereich Geowissenschaften
Institut für Geologische Wissenschaften
Tectonics and Sedimentology
Professor
Address
Malteserstr. 74-100
Room B 105
12249 Berlin

Office
Juliane Rohlmann
Telephone
(+49 30) 838 - 61558
Fax
(+49 30) 838 - 458659
Email
anne.bernhardt@fu-berlin.de
Office hours
Wednesday 11:00 - 13:00
Please email me beforehand for an appointment during office hours to ensure sufficient time for the conversation.
  Employment
2016 - present

W2 Professor in Sedimentology – Exogene Geology

(fixed-term position– 5 years)

Freie Universität Berlin

2013 - 2016

Post-doctoral fellow – German Research Foundation (DFG-Eigene Stelle)

"Controls on turbidite deposition offshore the Chilean convergent margin" Department of Earth and Environmental Sciences

Universität Potsdam

Research group of Prof. Manfred Strecker

2013

Scientific consultant for the Rohöl-Aufsuchungs-AG (RAG), Vienna, Project: "Distribution and Evolution of Oligocene/ Miocene submarine slope fans along the South Slope of the Molasse Basin, Upper Austria" (employed by UP Transfer Gesellschaft für Wissens- und Technologietransfer mbH during 6 months pause of DFG-Eigene Stelle)

2011 - 2012

Post-doctoral fellow

Department of Earth and Environmental Sciences

Universität Potsdam

Research group of Prof. Manfred Strecker
Education

 

2005 - 2011

Ph.D. in Geological and Environmental Sciences, Stanford University Stanford Project On Deep-water Depositional Systems

(SPODDS, industry-funded research program, http://spodds.stanford.edu)

Thesis: "Paleogeography and Sedimentary Development of two Deep-Marine Foreland Basins: The Cretaceous Magallanes Basin, Southern Chile, and the Tertiary Molasse Basin, Austria". 218 p.

Advisors: Prof. Donald Lowe, Prof. Stephan Graham

2002 - 2005

Diplom program in Geology/ Paleontology at the Freie Universität Berlin
BSc. Courses:
1.
Introduction to Sedimentology 1
Vorlesung & Übung "Sedimentologie I" (24108)
2.
Field course: "Sedimentology and Stratigraphy"
Geländepraktikum: "Sedimentär-stratigraphisches GP" (24117b1)

M.Sc. Courses:
3.
Seminar: Sedimentary Systems
Seminar: AG-Seminar Sedimentäre Geologie" (24200b03)
4.
Lecture and lab: Sedimentary Petrography and Microfacies
Vorlesung und Übung: Sedimentäre Petrographie und Mikrofazies" (24219)
5.
Field course and seminar: "The Pyrenees and their foreland basins: Sedimentology and Geomorphology" (co-taught with Jun. Prof. Dirk Scherler)
Geländepraktikum, Vorbereitungsseminar, Nachbereitungsseminar: "Die Pyrenäen und ihr Vorland: Sedimentologie und Geomorphologie (GP)"
 (24217b06)
The research of the Sedimentary Systems Group focuses on how sediments and sedimentary rocks record Earth-surface processes across a broad range of temporal and spatial scales. The ultimate goal is to discover how marine clastic sedimentary successions relate to past tectonic activity, climatic perturbations, sea-level changes, oceanic conditions, and intrinsic controls of the depositional system. We are aiming to analyze entire natural sediment routing systems, including their terrestrial and submarine components, over geomorphologically significant time scales.
Projects
Chile
We analyzed Earth surface processes across a broad range of climate zones and geomorphic characteristics over the past 26,000 years. The goal of this project is to decipher the controls on offshore turbidite deposition and to evaluate the use of turbidite depositional archives as proxies for climate change and past earthquake activity.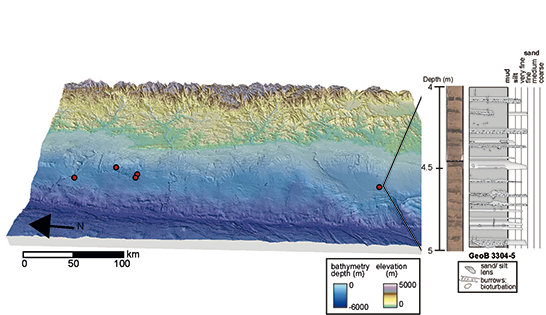 Block diagram of the Chile margin from La Serena to Valparaíso showing the onshore and offshore topograhy. Red dots denote sediment core sites.
Molasse Basin (Germany/ Austria)
The goal of this project is to reconstruct the Oligocene and Miocene uplift and erosion history of the Eastern Alps by investigating the sedimentary basin fill of the German and Upper Austrian Molasse Basin. We will decipher the propagation time scale of major uplift and erosion signals into the marine and freshwater strata of the Molasse Basin. This project is part of the PhD project of Julian Hülscher and is coadvised by Edward Sobel.
Outline of the Austrian Molasse study site including three-dimensional seismic-reflection data and sediment core provided by the Rohölaufsuchungs AG in Vienna.
Outcrop of Miocene Freshwater Molasse in the German Molasse Basin.
West Sumatra
Along the West coast of Sumatra,we are tracing Holocene variations of erosion and sediment deposition related to precipitation changes from the onshore erosional zone through the fluvial transfer zone and into the deep-marine sedimentary sink.
Outcrop of volcanic tuff deposits which are currently being eroded and incorporated into river sediment.
Describing Auger sediment cores of river floodplain deposits that are cultivated as rice paddies.
Sediment plume in the Indian Ocean offshore the Padang River after heavy rainfall.
Peer-reviewed papers:
2017
Wittmann H., von Blanckenburg, F., M. Mohtadi M., Christl, M., Bernhardt, A., 2017, The competition between coastal trace metal fluxes and oceanic mixing from the 10Be/9Be ratio: Implications for sedimentary records, Geophysical Research Letters, DOI: 10.1002/2017GL074259.
Bernhardt  A., Schwanghart W., Hebbeln D., Stuut J.-B. W., Strecker M.R., 2017, Immediate propagation of deglacial environmental change to deep-marine turbidite systems along the Chile convergent margin, Earth and Planetary Science Letters, v. 473, p. 190-204.
Stright, L., Fosdick, J., Jobe, Z., Bernhardt, A., 2017, Modeling uncertainty in the three-dimensional structural deformation and stratigraphic evolution from outcrop data: implications for submarine channel knickpoint recognition, Marine and Petroleum Geology, v. 86, p. 79-94. 
2016
Bernhardt, A., Hebbeln, D., Regenber, M., Lueckge, A., Strecker, M., 2016, Shelfal sediment transport by an undercurrent forces turbidity-current activity during high sea level along the Chile continental margin, Geology, v. 44, no. 4, p. 295–298, doi: 10.1130/G37594.1.

Schwanghart, W., Bernhardt, A., Stolle, A.,Hoelzmann, P., Adhikari B.R. ,Andermann, C., Tofelde, S., Merchel, S., Rugel, G., Fort, M., and Korup, O., 2016, Repeated catastrophic valley infill following medieval earthquakes in the Nepal Himalaya, Science, v. 8, p. 147-150. doi:10.1126/science.aac9865
2015
Bernhardt, A., Melnick, D., Jara-Muñoz, J., Argandoña, B., González, J., Strecker, M.R, 2015, Controls on submarine canyon activity during sea-level highstands: The Biobío canyon system offshore Chile, Geosphere, doi:10.1130/GES01063.1
Bernhardt, A., Melnick, D., Hebbeln, D., Lueckge, A., Strecker, M., 2015, Turbidite paleoseismology along the active continental  margin of Chile – feasible or not?, Quaternary Science Reviews, v. 120. p. 71-92. doi:10.1016/j.quascirev.2015.04.001
2013
Stright, L., Bernhardt, A., and Boucher, A., 2013, DFTopoSim: Modeling Topographically-Controlled Deposition of Subseismic Scale Sandstone Packages Within a Mass Transport Dominated Deep-Water Channel Belt, Mathematical Geosciences, v. 45, p. 277-296, doi: 10.1007/s11004-013-9444-7.
2012
Bernhardt, A., Stright, L., Lowe, D.R., 2012, Channelized debris flow deposits and their impact on turbidity currents: the Puchkirchen axial channel belt in the Austrian Molasse Basin, Sedimentology, v. 59, p. 2042-2070, DOI: 0.1111/j.1365-3091.2012.01334.x
Bernhardt, A., Jobe, Z.R., Grove, M., Lowe, D.R., 2012, Paleogeography and Diachronous Infill of an Ancient Deep-Marine Foreland Basin, Upper Cretaceous Cerro Toro Formation, Magallanes Basin, Chile; Basin Research, v. 24, p. 269-294, DOI: 10.1111/j.1365-2117.2011.00528.x
2011
Bernhardt, A., Jobe, Z.R., Lowe, R., 2011, Stratigraphic Evolution Of A Submarine Channel-Lobe Complex System In A Narrow Fairway Within The Magallanes Foreland Basin, Cerro Toro Formation, Southern Chile, Marine and Petroleum Geology, v. 28, p. 785-806
Fosdick, J.C., Romans, B.W., Fildani, A., Calderón, M., Bernhardt, A., Graham, S.A, 2011, Kinematic History Of The Cretaceous-Neogene Patagonian Fold-Thrust Belt and Magallanes Foreland Basin, Chile and Argentina (51° 30' S), GSA Bulletin, v. 123, p. 1679-1698
2010
Jobe, Z.R., Bernhardt, A., Lowe, R., 2010, Strong Facies Asymmetry in a Conglomerate-Rich Submarine Channel Fill, Cerro Toro Formation, Sierra Del Toro, Magallanes Basin, Chile, Journal of Sedimentary Research, v. 80, p. 1085-1108
2009
Stright, L., Bernhardt, A., Boucher, A.; Mukerji, T., 2009, Revisiting the use of Seismic Attributes as Soft Data for Sub-Seismic Facies Prediction: Proportions vs. Probabilities, The Leading Edge December 2009, p. 1460-1469.
2008
Bernhardt, A., Jobe, Z.R., Lowe, D.R., 2008, The evolution of an elongate foreland basin: the deep- to shallow-marine filling of the Cretaceous Magallanes Basin, Chile, 28th Annual GCSSEPM Foundation Bob F. Perkins Research Conference, p. 268-310.
For further information on the research in our group, please visit the Sedimentary Systems website.